#FelizFriday! 
Does the artwork on your walls talk? No, I haven't gone cray cray... I love when art has a story, and boy oh boy does both "Paddle Out" and "Buy a Ticket, Catch a Wave, Never Look Back" have a good story to tell!!!
 

BUY "Buy a Ticket, Catch a Wave, Never Look Back"
Ready for it?!
You see, last month, these aerial surfer prints were STOLEN off of my girl @ashleymarie_interiors front porch. Whatttttttt! Thanks to Ashley's front door security camera, Señor Porch Robber was caught on camera red handed...NOT COOL!
 

I'm sure Señor Porch Robber wasn't expecting to rob a box of beautiful prints from magical paradise, but I sure do hope his new sunset + beach print loot sent him lots of Pura Vida vibes AND made him re-evaluate his not-so-cool life decisions.

As for my girl Ashley, I'm so stoked a piece of Pura Vidadise is FINALLY hanging in her Pacific Northwest home after my awesome printer worked with me to safely ship her new prints! AND how GORGEOUS is Ashley's home?! These aerial images look soooooo good on her walls...all the heart eyes 😍😍😍!!!
 
And did you know that... framing these beauties is super easy? Ashley picked up a couple of 16"x20" white frames from Target for her 11'x14" prints and within minutes she had instant surf shack vibes in her PNW home!

OR if you simply want your print to arrive already framed and ready to hang on the wall, bada bing-bada boom, I do that too with custom framing options at The Sunset Shop -- can I get a HECK YES?!?!?!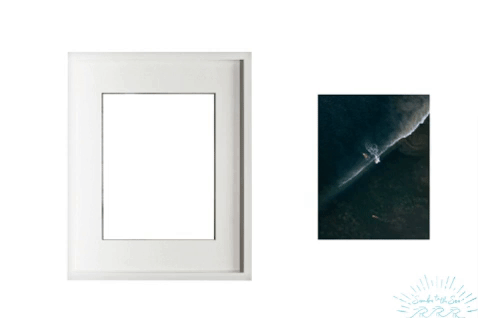 Pura Vida,